Creating Space In Your Bathroom
One of the most challenging aspects of any bathroom is how best to maximise space in order to make the room as enjoyable as possible. Many British bathrooms are perceived to be small, so if you worried that your room is going to be difficult to work with, fear not, there are plenty of tips to make use of.
Compact Dimensions
It might seem obvious but when space is restricted, compact bathroom products are your number one friend. It is important that you leave plenty of space throughout the room to allow for "flow" and that is where compact dimensions can help.
A compact toilet is a great starting point. Reducing the projection of a toilet is a great way to bring more space into a cloakroom or smaller bathroom. Whether you are going for a close-coupled, back-to-wall or wall-hung toilet, we have plenty of compact toilets that will help.
A compact basin vanity unit will not only take up less room, it will also provide you with useful extra storage space to keep the bathroom nice and tidy. Check out our cloakroom vanity units for some great options as well as our popular Cape bathroom furniture which has a small-bathroom-friendly projection of 390mm.
Wall Hung. Wall Hung. Wall Hung.
Let's just take a moment to repeat those words. Wall hung. And again. Wall Hung! We cannot emphasise enough how suited wall hung vanity units and toilets are for smaller bathrooms. They will create an illusion of more space throughout the room, except it isn't an illusion – wall hung toilets and furniture allow you to stand closer to things and make cleaning the bathroom floor so much easier. If you are fitting a wall hung toilet the boxing around the toilet frame (whether tiled or a toilet furniture unit) creates useful and attractive space for items such as candles or plants.
Declutter
Keep your bathroom clutter-free and you are halfway to improving the space in there. Having lots of toiletries or toilet rolls strewn about will look messy and make the room feel smaller. Invest in items to provide extra storage such as storage furniture, mirror cabinets or vanity units and you will have lots of extra room to keep the clutter out of eyesight!
Lighting
A dull and unlit bathroom will not only be harder to use but can also look smaller. Instead, try to bring as much light as you can into the room. This might be by making use of natural light through windows and roof lights or if that is not an option make use of electric lighting as much as possible. You don't have to cram thousands of downlights into the ceiling, wall lights and illuminated mirrors can all help to brighten up the bathroom space.
Colour Schemes
Finally, the colours that you incorporate into the room will make a real impact. Having lots of dark finishes will look opulent but without lots of light, these hues can soak up space within smaller bathrooms. Instead consider lighter shades for tiles and paint that will help to maximise space within your bathroom. This doesn't mean you can only stick to white and light grey colours, far from it! Consider colourful bathroom furniture, taps or even decorative wall paper to brighten things up.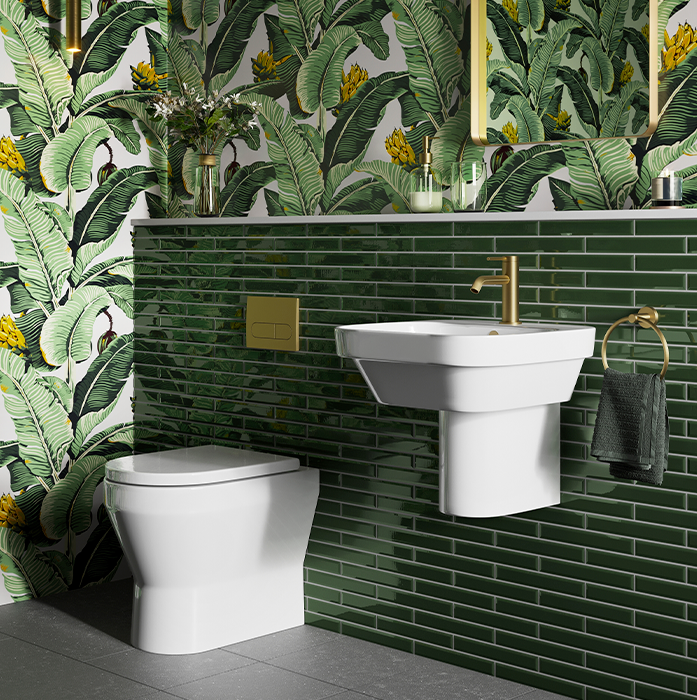 Make use of these tips and you will be able to create more space in your bathroom than you may have thought possible. If you need any help or advice then please get in touch – we are here to help!
---